View SketchUp files on iPad, iPhone, and Android Devices!
SketchUp is one of the most intuitive and fun to use 3D modeling software in the market today. And free. Millions of people are using SketchUp to model anything and everything. SketchUp is being used in many diverse industries including Architecture & Design, Engineering, Construction, Digital Entertainment, Education & Gaming.
And now you can bring your SketchUp models to your iPhone, iPad, and Android devices, using free Glovius for iOS and Glovius for Android apps. Carry your SketchUp portfolio in your pocket and showcase your designs on the go.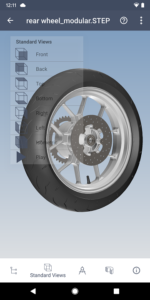 Glovius for iOS and Glovius for Android support all popular CAD and 3D file formats, including CATIA, NX, Creo and Pro/ENGINEER, SolidWorks, Inventor, Solid Edge, STEP, IGES, JT, STL, SketchUp, 3DS, and more.
View SketchUp files on the go
View SketchUp files saved in your Dropbox or Glovius Cloud
Upload SketchUp files from your iPhone, iPad, or Android device
Upload SketchUp files on cloud.glovius.com
Open large SketchUp files in seconds
Downloaded files are available for offline viewing
Zoom, pan, roll, rotate SketchUp components; double-tap to reset
Animate through standard views
Analyze SketchUp files on your iPhone, iPad, or Android device
Tap a component to view the bounding box, attributes, make it transparent/solid
Take point to point measurements
Cut dynamic sections across standard XY, YZ, XZ planes
Download in high-quality STL, 3DS, and OBJ formats
Collaborate with your Team
Get and share feedback on SketchUp files with the Activity Feed
Save, Share, and email snapshots
Add text comments, freehand markups on image snapshots
Get notified when files are added, updated, or commented by others
Glovius Cloud Subscription
Viewing SketchUp files is free in Glovius for iOS, Android, and Cloud apps. To enable Measurement and all tools, please subscribe from within the app or on cloud.glovius.com
Feedback
For any feedback/suggestions, drop me an email at sid@glovius.com
Posted by Siddhartha Oza,
Product Manager, Glovius