CATIA Viewer – View, Analyze & Export CATIA Parts & Assemblies
Download CATIA File Viewer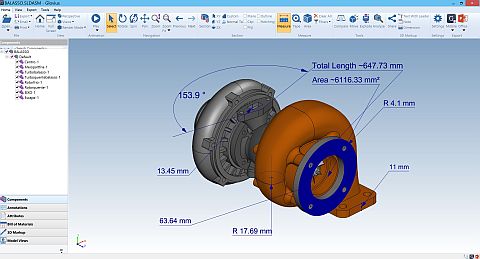 View native CATIA files without a CATIA license.
View popular 3D CAD files in one application.
Simple and easy to use. No training required.
Available in Annual, Permanent and Team licenses.
Free 2D Viewer. Free iOS and Android apps.
Register for free 7-day trial
Glovius CAD Viewer is available in English, Deutsche, Français, 日本語, Español, Português, 中文 and 한국어 languages.
View CATIA Files
View CATIA V5 (.CATPart, .CATProduct), CATIA V4 (model, dlv, exp, session) and CATIA V6 (3DXML) Part & Assembly files. View CATIA CATDrawings files with Glovius 2D Viewer.
More CAD Formats
View NX, Creo, STEP, IGES, SolidWorks, Solid Edge, Inventor, Pro/ENGINEER Part & Assembly files. Export to 3D PDF, STL, PPT, Excel and more.
View CATIA Parts, Assemblies and Drawings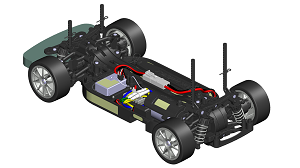 View 3D data, Product Structure, Attributes, PMI, GD&T, Annotations and Captures. Zoom, Pan, Rotate & Spin models. Previous & Next View. Standard Views. Perspective/Orthographic projection. Shaded, Wireframe and Mixed render modes. Hide/Show, Isolate, Move & Search components. Change component color and transparency.
Take Accurate Measurements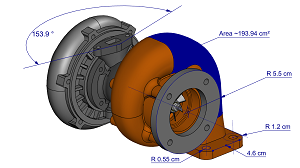 Take accurate linear, angular and radial measurements. Use Tape Measure for edges and curves. Calculate Surface area. Check ordinate dimensions and quickly measure models and features with Assistive Measurement.
Cut Dynamic Sections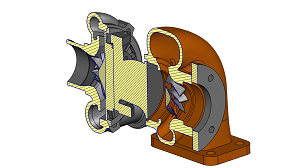 Cut dynamic sections along Standard or Custom Planes. Create multiple sections, add hatches to enhance visibility and measure section profiles.
Export to 3DPDF & More


Export your CATIA files to 3DPDF, STL, Image & Microsoft Powerpoint formats. Generate Bill of Materials (BoM) PDF & CSV report and 3D Model report with one click.
Assembly Analysis Tools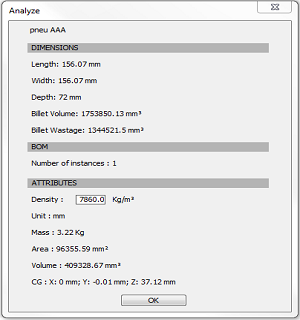 Use the
Analyze
tool to get the model snapshot and get to the know the key attributes, dimension extents, Instances and Mass.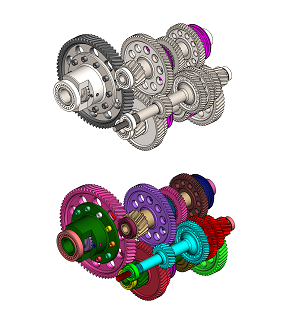 Change component
colors
to easy visual identification of product structure.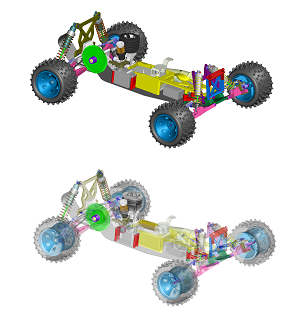 Apply
transparency
to individual components and progressive transparency for sub-assemblies.
Explode
assemblies to identify the internal components and method of construction.
Collaborate with your team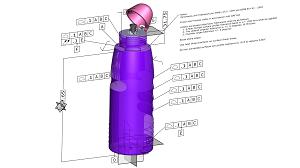 Add comments in your model and Collaborate with your team. Maintain context of your comments using the 3D Markup tools.
Compare Models in 3D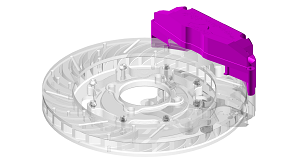 Compare various versions of design to inspect changes. Visually identify the added, removed and modified features of parts and assemblies.
Free 2D Viewer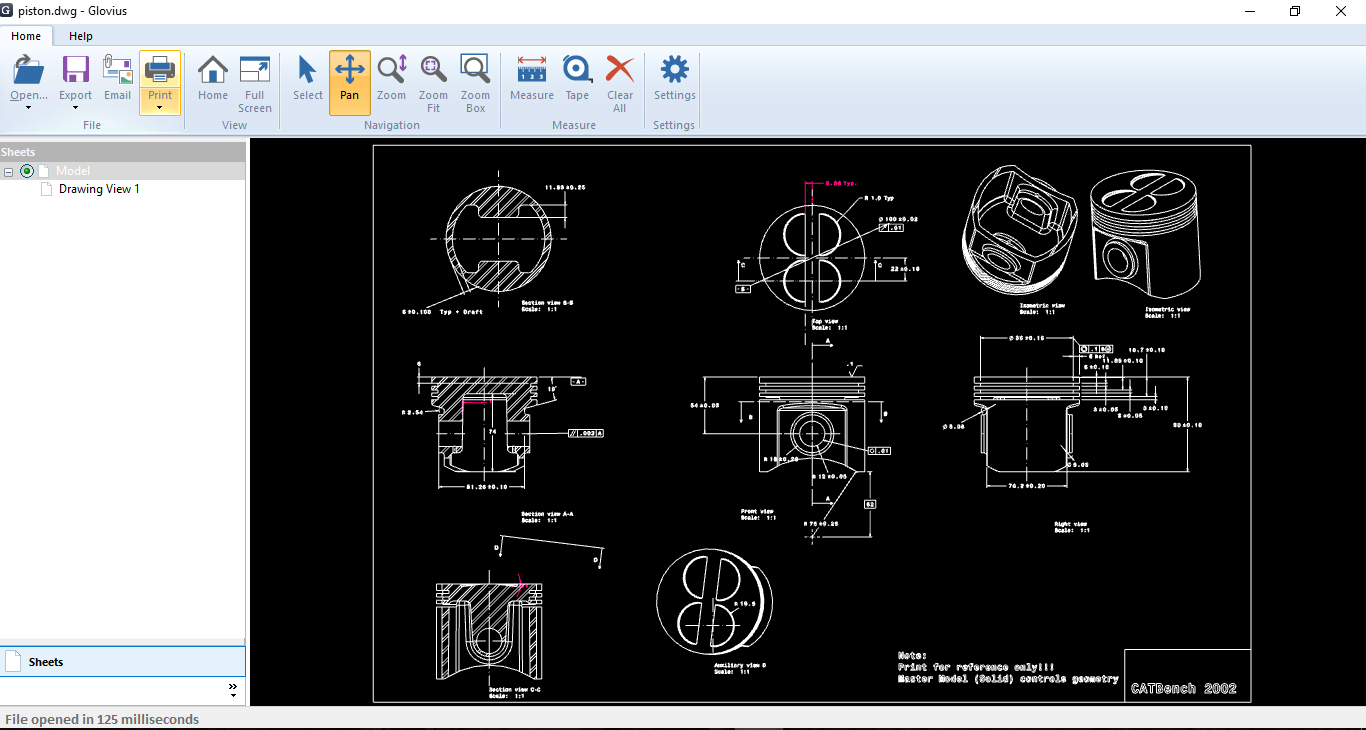 Open CATIA CATDrawings, DWG and DXF files with Glovius 2D Viewer. Take measurements and export to PDF.
Free iPhone, iPad & Android Apps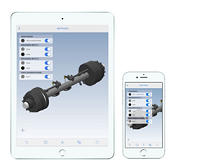 Export to Glovius Mobile. Transfer using Email, Dropbox or File transfer. View with free Glovius iOS & Android apps. View 3D, PMI, Product Structure and Attributes. Cut dynamic sections and take basic measurements.
Customer Quotes
"Advanced Systems and Controls uses Glovius in it's estimating department. Estimators need the ability to open and view a wide variety of customers drawings and Glovius gives us that capability."
– Pray, Advanced Systems & Controls Inc.
"I rely on Glovius to open files from customers for viewing and quoting their projects. It's been a great help especially from a cost standpoint because I do not need a complicated viewing program."
– Geib, West Bend Plastics Inc.
"I really like your product. Very helpful for someone in aerospace who does a lot of quoting and has to open a lot of different types of files."
– Pat Rowell, Cutting Dynamics, Inc.
About Glovius
Formats Supported
CATIA V4 – Up to v4.2.5; File extensions – MODEL, SESSION, DLV, EXP
CATIA V5 – R4 to V5-6R2016; File extensions – CATPart, CATProduct, CGR
CATIA V6 – 2011, 2012, 2013; File extensions – 3DXML
NX, Creo & Pro/ENGINEER Parts & Assemblies
SolidWorks, Solid Edge, Inventor Parts & Assemblies
STEP – AP 203, AP 214, AP 242; File extensions – STP, STEP
IGES – 5.1, 5.2, 5.3; File extensions – IGS, IGES
STL, Rhino, VDA-FS, VRML
System Requirements
Windows 7, 8, 8.1 and 10
1280 X 1024 or higher, with support for 32-bit color
4GB RAM or more
Languages Supported
English, German, French, Japanese, Spanish, Portuguese, Chinese, Korean
Support
Write to us at support@glovius.com with your questions or ask for a product demo over webex. Take a tour, read the release notes and FAQs to know more.