Glovius – A Modern 3D CAD Viewer
Glovius is a modern 3D CAD file viewer. Glovius supports CATIA, NX, STP, IGES, Pro/ENGINEER and Creo, SolidWorks, Inventor, and Solid Edge parts and assemblies. With Glovius, you can view native CAD files without a CAD license.
Collaborate across screens with comments and markup on latest 3D product data while working remotely. This makes for a seamless collaboration experience between teams located in different locations, accelerating the product development process.
Glovius 3D CAD Viewer
View native CAD files without a CAD license.
View popular 3D CAD files in one application.
Simple and easy to use. No training required.
Available in Annual, Permanent and Team licenses.
Free 2D Viewer. Free iOS and Android apps.
Take accurate measurements, cut dynamic sections, compare differences between models and export to STEP, IGES, 3D PDF, HTML, 3MF, and STL among other formats. Glovius comes with a free 2D viewer to view DWG and DXF files.
Buy Glovius CAD Viewer starting from $30/month.
(billed annually)
Glovius 3D CAD Viewer Analysis Tools
A Modern CAD Viewer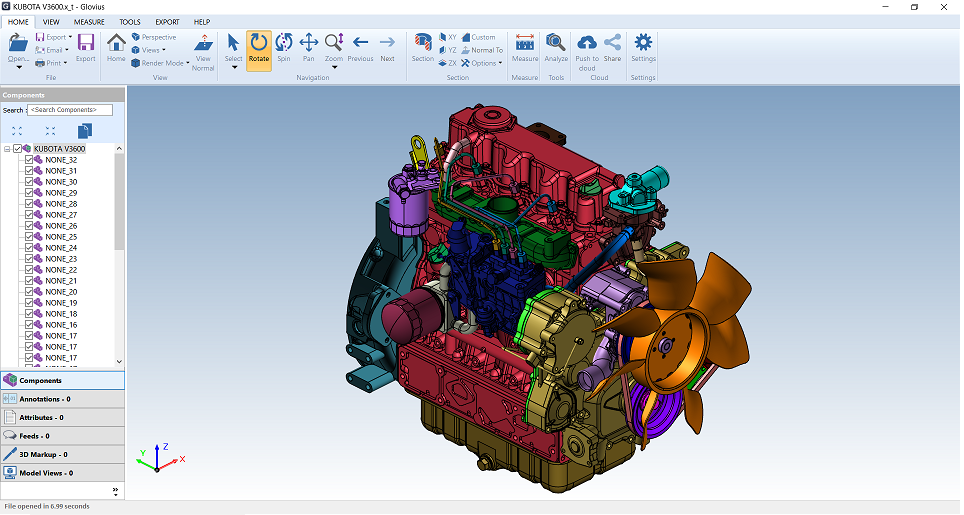 View 3D data, Product Structure, Attributes, PMI, and GD&T.
Zoom, Pan, Rotate & Spin models.
Standard Views. Previous and Next View.
Perspective and Orthographic projection.
Shaded, Wireframe, and Mixed render modes.
Apply colors and transparency for easy identification.
Hide, Show, Isolate, Move, and Search components.
Explode assemblies to understand their construction.
Print, with Print Setup and Print Preview support.
Measure CAD Files
Take accurate linear, angular, and radial measurements.
Quickly measure models and features with Assistive Measurement.
Filter points, edges, and faces for measurement.
18 pre-defined selection tools for fast and accurate measurement.
Tape Measure for continuous measurement of edges and curves.
Measure Surface area, with support for multiple surfaces.
Visually identify holes and their properties.
Powerful Analysis Tools
Analyze Tool: Get the component snapshot and view attributes, dimension extents, instances and Mass/Volume/Density.

Wall Thickness Analysis: Compute the material distribution in a part to identify areas of material optimization.

Collision Detection: Detect clashes and contacts in assemblies.

Projected Area: Calculate the Projected Area for use in Casting process calculations.

Draft Analysis: Compute the draft angles of all surfaces in a part for use in Injection Molding and Casting processes.
Export CAD files and Create Reports
Export 3D CAD files to STEP, IGES, 3MF, X_T (requires PLUS license).
Create Bill of Materials (BoM) report, 3D Report, and Hole Table report.
Export STEP files to 3D PDF and 3D HTML.
Save as STL, 3DS, OBJ, Image (BMP/JPG/PNG/TIFF), and PPT.
Export STEP files to Glovius format for use on phones and tablets.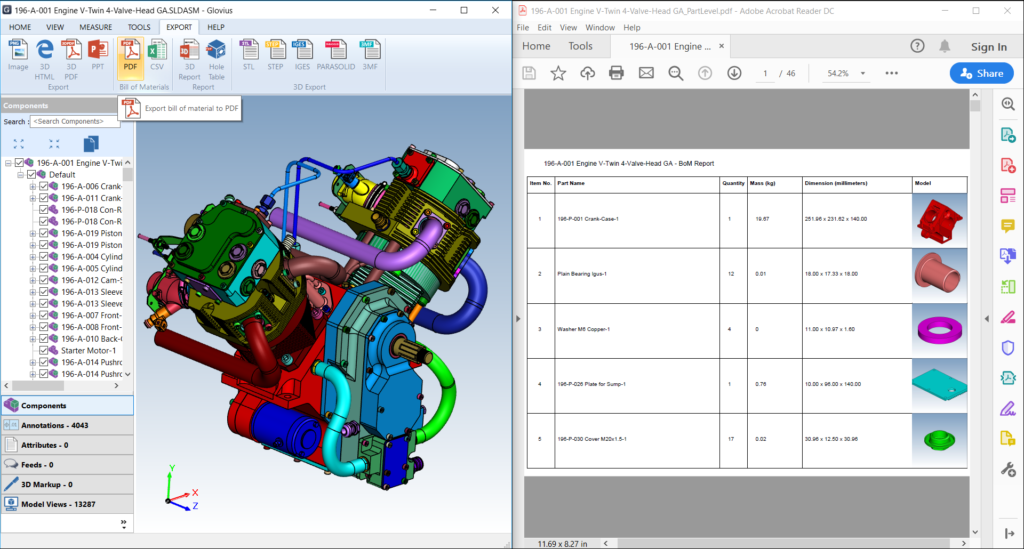 Free iPhone, iPad & Android Apps
What customers are saying about us:
With Glovius our employees can now easily and fast open and review shared 3d-designs of many different file types. Not only on the work floor but also our purchasing, our sales and our service department have big benefits by using Glovius. Working with Glovius has made our assembling department paperless, has given our sales the opportunity to open and review 3rd party 3d files and helps our purchasers to provide information needed for our suppliers. Not only is the software but also the team behind it a great pleasure to work with.
"I used Glovius to view an industrial construction project, and it really helped us see how the parts of the plant tied in to each other for scheduling of the construction."
"Advanced Systems and Controls uses Glovius in it's estimating department. Estimators need the ability to open and view a wide variety of customers drawings and Glovius gives us that capability."
"I really like your product. Very helpful for someone in aerospace who does a lot of quoting and has to open a lot of different types of files."
About Glovius
Formats Supported
CATIA V4 – Up to v4.2.5; File extensions – MODEL, SESSION, DLV, EXP
CATIA V5 – R4 to V5-6R2022; File extensions – CATPart, CATProduct, CGR
CATIA V6 – 2011, 2012, 2013; File extensions – 3DXML
NX, Creo & Pro/ENGINEER Parts & Assemblies
SolidWorks, Solid Edge, Inventor Parts & Assemblies
STEP – AP 203, AP 214, AP 242; File extensions – STP, STEP
IGES – 5.1, 5.2, 5.3; File extensions – IGS, IGES
STL, Rhino, VDA-FS, VRML
System Requirements
Windows 7, 8, 8.1, 10 and 11
1280 X 1024 or higher, with support for 32-bit color
4GB RAM or more
Languages Supported
English, German, French, Japanese, Spanish, Portuguese, Chinese, Korean