Glovius has number of tools to quickly calculate and surface meta data associated with the CAD components. We recently introduced a new parameter to calculate the billet size needed to manufacture the component and the corresponding wastage of raw material in subsequent manufacturing steps.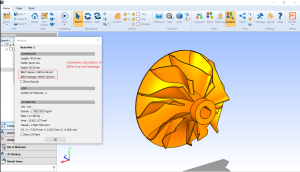 Calculate Billet Size and Wastage
Here are the steps to calculate the Billet size of the component –
Open a 3D model in Glovius
Select a component and click 'Analyze' tool
The billet size and wastage parameters are displayed in the Analyze dialog
Do try it out and let us know your feedback at support@glovius.com.