Pro/ENGINEER & Creo Viewer
View Pro/ENGINEER & Creo Files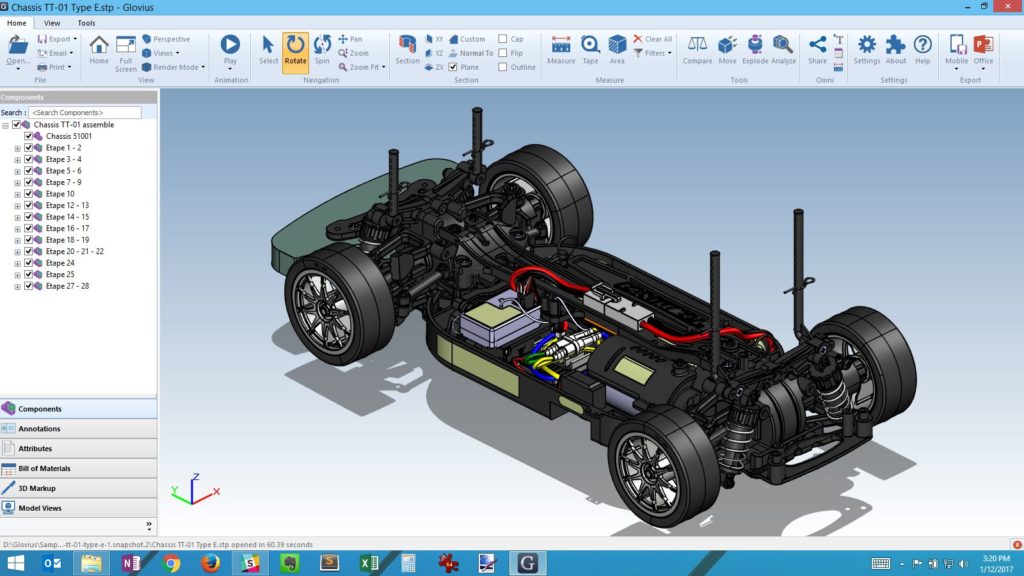 Price : $480/year SUBSCRIBE
Perpetual licenses are also available in Node Locked and Floating configurations.
Free 7-day trial
Register to download
View Pro/ENGINEER & Creo Part (.prt) & Assembly (.asm) files.
View OneSpace Designer (.pkg, .bdl) and CADDS(._pd) files.
View STEP (.stp, .step), IGES (.igs, .iges) and JT files.
Zoom, Pan, Rotate models, with full screen support.
Standard Views with animations, Render modes and perspective camera.
View product structure, hide, show and move components.
Perform accurate linear, radial & angular measurements.
Take sections, with multiple section planes, flip & profile support.
Compare models; See differences in 3D, attributes, product structure.
Export to 3D PDF, STL, 3DS and OBJ.
Export to Powerpoint PPT; Export Bill of Materials (BOM) to CSV and PDF.
About Glovius Pro/ENGINEER and Creo Viewer
Formats Supported
Pro/ENGINEER – Up to Wildfire 5; File extensions – ASM, NEU, PRT, XAS, XPR
Creo – Elements/Pro 5.0, Parametric 3.0; File extensions – ASM, NEU, PRT, XAS, XPR
OSDM, CADDS – File extensions – PKG, BDL, _PD
STEP – AP 203, AP 214, AP 242; File extensions – STP, STEP
IGES – 5.1, 5.2, 5.3; File extensions – IGS, IGES
Stereo Lithography (STL) – All Versions; File extensions – STL
Rhino, VDA-FS, VRML – File extensions – 3DM, VDA, WRL, VRML
System Requirements
Windows 7, 8, 8.1 and 10
1280 X 1024 or higher, with support for 32-bit color
4GB RAM or more
Support
Write to us at support@glovius.com with your questions or ask for a product demo over webex. Take a tour, read the release notes and FAQs to know more.