CATIA Viewer – View, Measure, Section, Compare & Export CATIA & CAD files
View CATIA V5, V6 Files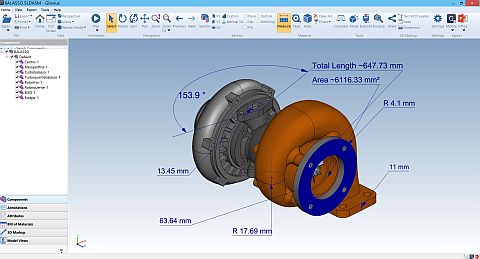 Glovius is available in English, German, French, Japanese, Spanish, Portuguese, Chinese and Korean languages.
Save on CAD licenses for users who do not author or edit CAD files, but need to view, investigate and analyze 3D product designs.
View popular 3D CAD formats in one application.
Simple and easy to use. No training required.
View 3D data, attributes, PMI, Annotations and Model Views.
Navigate, Measure, Section, Analyze, Compare and Export.
License and subscription options.
Free 7-day trial
Register to download
View CATIA V5 Part (CATPart) and Assembly (CATProduct) files.
View CATIA CATDrawing, DWG, DXF files with free 2D Viewer.
View NX, Creo, STEP, IGES, SolidWorks, Solid Edge, Inventor, Pro/ENGINEER files.
View CATIA V4 (model, dlv, exp, session), CATIA V6 (3DXML) files.
Zoom, Pan, Rotate models with full screen support.
Standard Views with animations, Render modes and perspective camera.
View product structure, hide/show/move components.
View, hide/show, search, filter PMI data; View captures and model views.
Perform accurate linear, radial & angular measurements.
Take sections, with multiple section planes, flip & profile support.
Compare models; See differences in 3D, attributes, product structure.
Export to 3D PDF, STL/3DS/OBJ; Export Bill of Materials (BOM) as CSV.
Customer Quotes
"Advanced Systems and Controls uses Glovius in it's estimating department. Estimators need the ability to open and view a wide variety of customers drawings and Glovius gives us that capability."
– Pray, Advanced Systems & Controls Inc.
"I rely on Glovius to open files from customers for viewing and quoting their projects. It's been a great help especially from a cost standpoint because I do not need a complicated viewing program."
– Geib, West Bend Plastics Inc.
"I really like your product. Very helpful for someone in aerospace who does a lot of quoting and has to open a lot of different types of files."
– Pat Rowell, Cutting Dynamics, Inc.
Buy Glovius
Subscription Plans
Single User Subscription license for $40/month, billed annually.
Permanent Licenses
Single user Perpetual license.
About Glovius CATIA Viewer
Formats Supported
CATIA V4 – Up to v4.2.5; File extensions – MODEL, SESSION, DLV, EXP
CATIA V5 – R4 to V5-6R2016; File extensions – CATPart, CATProduct, CGR
CATIA V6 – 2011, 2012, 2013; File extensions – 3DXML
NX, Creo & Pro/ENGINEER, SolidWorks, Solid Edge, Inventor Parts & Assemblies
STEP – AP 203, AP 214, AP 242; File extensions – STP, STEP
IGES – 5.1, 5.2, 5.3; File extensions – IGS, IGES
STL, Rhino, VDA-FS, VRML – File extensions – STL, 3DM, VDA, WRL, VRML
Languages Supported
English, German, French, Japanese, Spanish, Portuguese, Chinese, Korean
System Requirements
Windows 7, 8, 8.1 and 10
1280 X 1024 or higher, with support for 32-bit color
4GB RAM or more
Support
Write to us at support@glovius.com with your questions or ask for a product demo over webex. Take a tour, read the release notes and FAQs to know more.