View Inventor Part and Assembly Files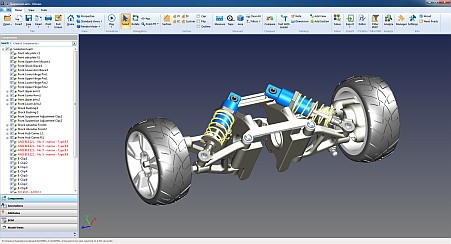 Buy Floating License for $795
Free 7-day trial
Register to download
View Inventor Part (.ipt) & Assembly (.iam) files, JT files
Zoom, Pan, Rotate models, with full screen support.
Standard Views with animations, Render modes and perspective camera.
View product structure, hide/show/move components.
View, hide/show, search, filter PMI data; View captures and model views.
View, search attributes and properties; Print, and Email snapshots.
Perform accurate linear, radial & angular measurements.
Take sections, with multiple section planes, flip & profile support.
Compare models; See differences in 3D, attributes, product structure.
Add notes, markups, dimensions, section & model views and save as JT
Export to 3D PDF, STL/3DS/OBJ; Export Bill of Materials (BOM) as CSV.
About Glovius Inventor Viewer
Formats Supported
Autodesk Inventor – Up to 2015; File extensions – IPT, IAM
System Requirements
Windows 7, 8 and 8.1
1280 X 1024 or higher, with support for 32-bit color
4GB RAM or more
Support
Write to us at support@glovius.com with your questions or ask for a product demo over webex. Take a tour, read the release notes and FAQs to know more.