We recently announced our CAD collaboration initiative – Glovius Cloud. Now, with the latest product update to Glovius desktop app, you can add and view comments directly in the app. This enables a true multi platform CAD collaboration solution for Glovius users.
During the design cycle various teams are involved in bringing the design from concept to life. This involves collaboration between different teams – Designers, Manufacturing Engineers, QC Engineers, Program Managers, Cost Estimators, Should Costing Teams and many more. Usually, the collaboration across these teams happens with a wide and variety of tools and disparate systems – drawings, image snapshots, derivative reports or sometimes even by email. This leads to severe lack of trace-ability, loss of information and repetition. Glovius CAD collaboration is designed to be a multi platform tool that serves as the basis for all discussions on 3D parts and assemblies.
Glovius Cloud is a web based  tool built on multiple platforms for contextual collaboration. Use the Glovius desktop, Mobile apps or the Web app to View and add comments. Converse with your designers, engineers and everyone else with the 3D design file as the source of truth. This ensure you spend less time on email and more time designing and manufacturing great products.
You can extend this collaboration tool to your suppliers and manufacturers. As the conversations are file based, you can share a specific file in the project to such external stakeholders with a single click.
Finally using our web and mobile apps, the entire team will always have access to the 3D part and assemblies. You can take simple measurements, take sections and download reports.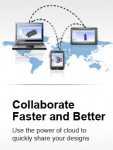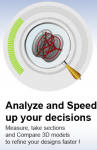 Download and Register on Glovius Cloud today – try the inbuilt collaboration tools !
Sridhar Oruganti,
Product Manager.